MAAN Wines
Hit Nero 19
Nero D'Avola, the predominant red variety of Sicily, is a perfect match for the climate of the McLaren Vale. This wine is 'made' to be bright, medium-bodied, delicious and is best consumed with friends and 'la famiglia'.

It's sure to be a hit (right to the back of the head). Saluti

Wine Specs

Region: McLaren Vale
Vintage: 2019
Cellaring: Now until 2025
Preservatives: Contains Sulphites
alc / vol: 13.5%
Standard Drinks: 8.1
Closure: Screwcap
Bottle Volume: 750ml
Blend info: N/A
Growers:
Cases Produced: 147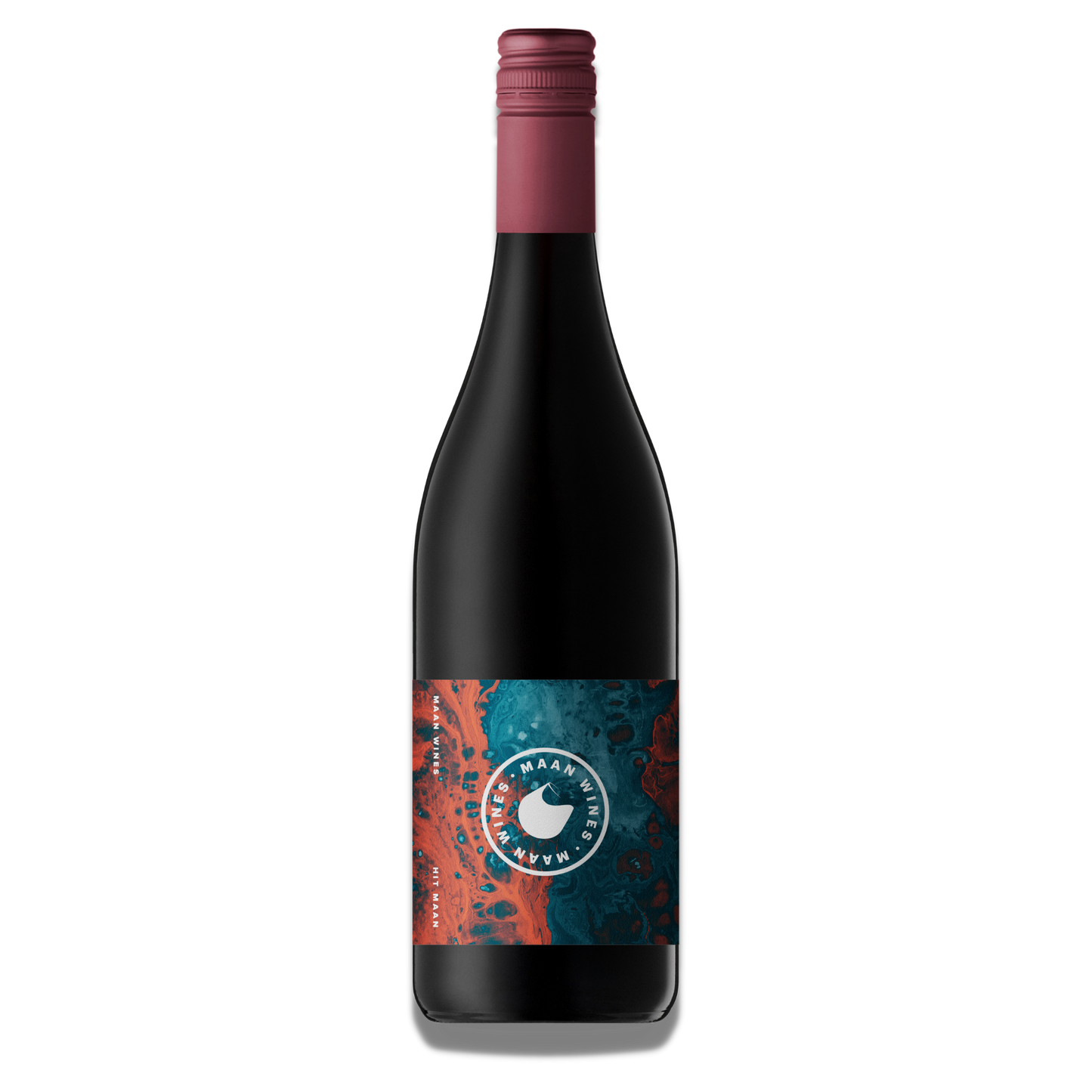 PRODUCTION NOTES

Nero d'avola is the lazy winemaker's dream variety. It's got so much natural acidity, nice tannin structure, and bright juicy fruit character that the biggest task we have is to make sure we don't muck around with it too much and ruin the natural instincts inherent in the grape. We made the 2019 Hit MAAN with this in mind, so we kept it very simple. This wine was wild fermented in open fermenters, receiving two light pump-overs a day. The free-run was kept separate from the pressings (basket pressed to retain a lighter touch), with the free run fraction staying in tank until bottling to retain freshness and brightness. Whilst the pressings fraction (about 33%) which was a more tannic and "bigger" style, was aged in older barrels, to help soften some of the tannins and give a little spicy character. This was all combined prior to bottling.

WINE PROFILE

Beautiful ruby colour. Purplish hue. Really bright and youthful

Packed with red fruits on the nose. Especially in the red berry spectrum. Tonnes of raspberry, mulberry, boysenberry and even blueberry. Countered by a touch of herbaceousness like fennel and thyme flowers. Bit of a doughy nose that combined with the fruit is reminiscent of freshly baked fruit tarts. Although very fresh and bright on the nose, there are hints of secondary characters waiting to come out in years to come.

The berry smorgasbord carries through on the palate. Bit richer than the nose suggests. Medium weight, some riper characters like stewed plums and dark cherries. Light and zippy but with a gentle tannin profile and lingering finish. Nice prominent tannins but not in an obvious way, they hide and slowly reveal themselves after a few more sips. Incredibly delicious, a real down-the-hatch special. Some confected characters pop out on second taste like musk sticks, toffee apple chews and even a touch of dark chocolate/coconut from the 33% seasoned oak used in production. Drink in the next 5 years.
FREQUENTLY ASKED QUESTIONS
Do your wines contain sulphur?

In short, yes. We use a tinsy bit so that we can ensure quality and enable your wine to age well, rather than spoil within a short timeframe like some 'natural' wines.
Are your wines organic?

We source our grapes from a number of different growers and some of them are certified organic, and some aren't.
How much does shipping cost?

Depends how much you're ordering and where you're shipping to. Generally speaking, the closer you are to Melbourne or Adelaide, the cheaper it will be. All shipping prices are calculated at the checkout, but order 12 or more bottles and receive free shipping.
Which restaurants / stores stock your wines?

It changes regularly but you're welcome to contact our distributors