MAAN Wines
Handy GMS 17
Handy MAAN GMS embodies all the virtues we associate with the term "Handy"; Accesible, practical, convenient, ever versatile and always great value. The blend of these 3 varieties gives this wine a perfect balance of power and restraint. The Grenache gives lifted flavours of strawberry and guava; The Mourvedre, spice and complexity; And the Shiraz, colour and guts. Making it a wine which offers something for everyone, in any situation.
Wine Specs

Region: McLaren Vale
Vintage: 2017
Cellaring: Now until 2025
Preservatives: Contains Sulphites
alc / vol: 13.5%
Standard Drinks: 8.1
Closure: Screwcap
Bottle Volume: 750ml
Blend info: 55% Grenache, 27% Mourvedre, 17% Shiraz
Growers:
Cases Produced: 184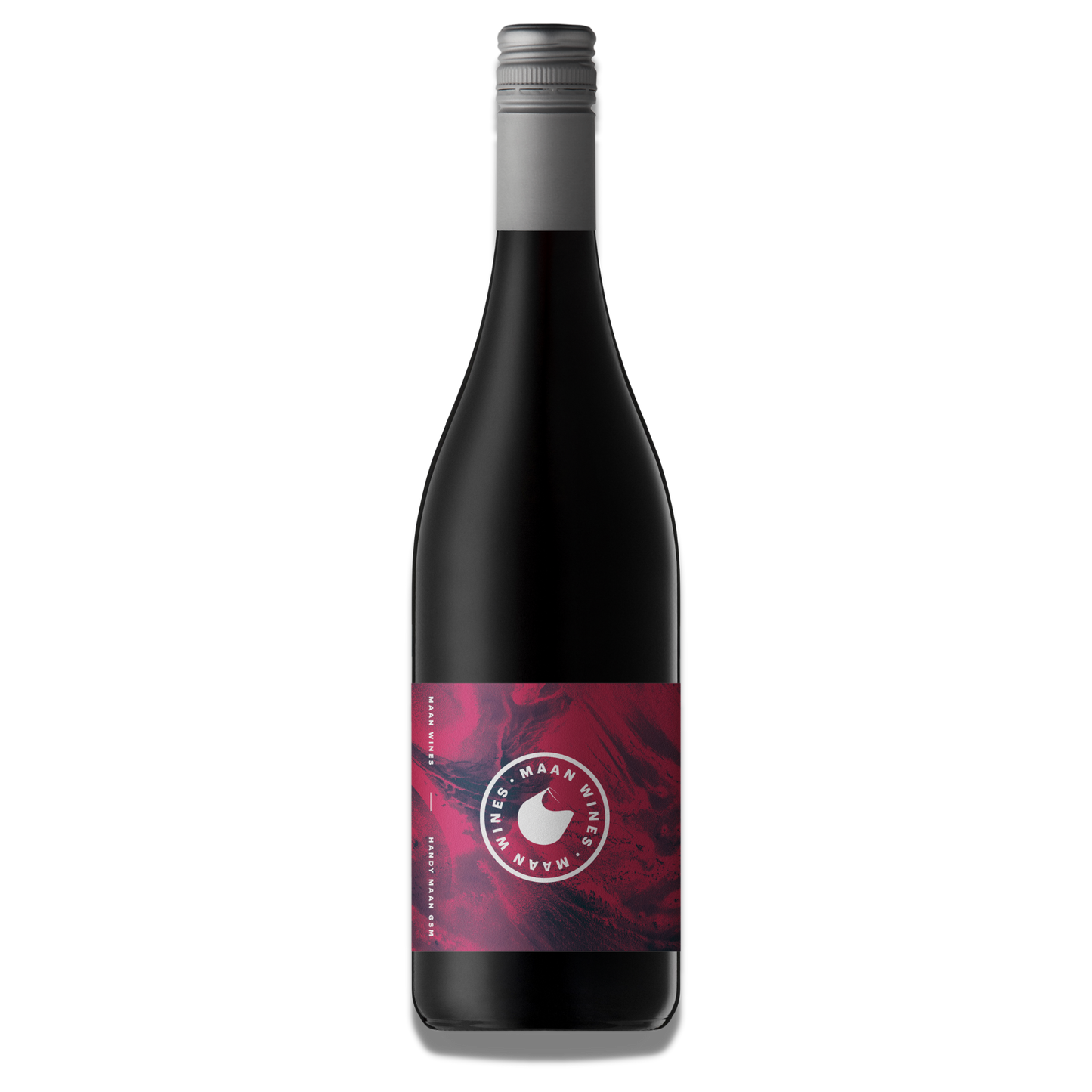 PRODUCTION NOTES

Bottled after 10
months in old oak, we managed to
trap it's youthful exuberance. Yet
having had 2 years plus of bottle
ageing, the richness and
complexing characters are now
meshing to form a really special
wine.

WINE PROFILE

VISUALLY: Dark ominous purple,
with lighter crimson hues.

NOSE: Leaps out of the glass with
blackberries, rose petal, rhubarb,
vanilla, and some tropical fruits.
Freshly baked scones with newly
whipped cream and homemade
raspberry jam.

PALATE: Decadence meets
drinkability. It has a lot of
complexity, real structure with the
Grenache, softness and spice from
Mourvedre, and guts and sweet
fruit from the shiraz, so it's a wine
that you could think about for
hours. But is just as easily thrown
down the hatch with gay abandon
due to its goddamn deliciousness.
FREQUENTLY ASKED QUESTIONS
Do your wines contain sulphur?

In short, yes. We use a tinsy bit so that we can ensure quality and enable your wine to age well, rather than spoil within a short timeframe like some 'natural' wines.
Are your wines organic?

We source our grapes from a number of different growers and some of them are certified organic, and some aren't.
How much does shipping cost?

Depends how much you're ordering and where you're shipping to. Generally speaking, the closer you are to Melbourne or Adelaide, the cheaper it will be. All shipping prices are calculated at the checkout, but order 12 or more bottles and receive free shipping.
Which restaurants / stores stock your wines?

It changes regularly but you're welcome to contact our distributors