MAAN Wines
Business Shiraz 19
You've heard of Shiraz, we'll spare you the introductions. This wine is dry, firm, confident and classy, much like a business handshake. The formal introduction of a touch of white brings class, finesse and synergy to our version of a classic variety.
This wine is the ultimate power move at your next luncheon, It's the business!

Wine Specs

Region: McLaren Vale
Vintage: 2019
Cellaring: Now until 2030
Preservatives: Contains Sulphites
alc / vol: 13.5%
Standard Drinks: 8.1
Closure: Screwcap
Bottle Volume: 750ml
Blend info: N/A
Growers:
Cases Produced: 177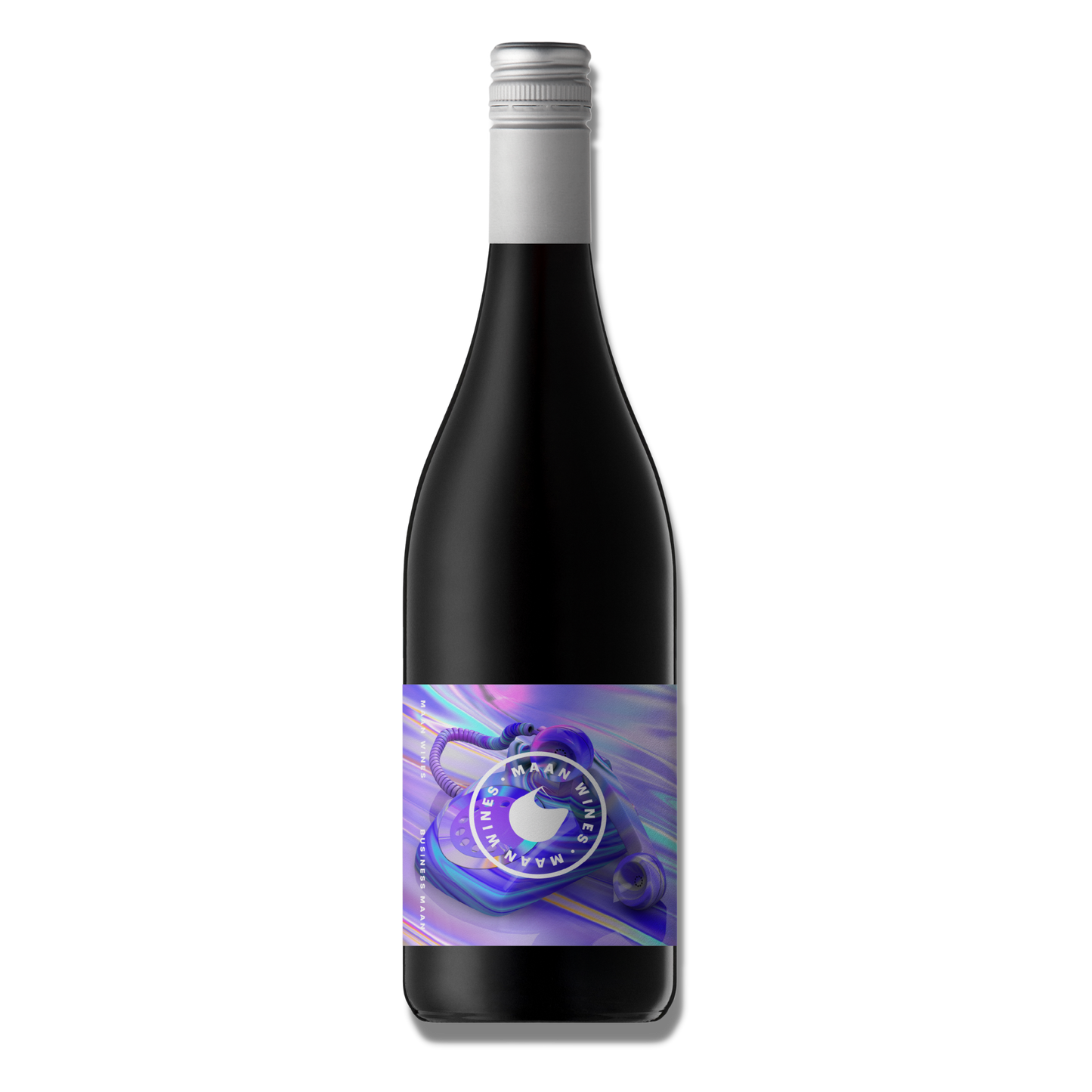 PRODUCTION NOTES

This was the first shiraz we'd made in 4 years with the implicit intention of selling as a straight shiraz. And we were keen to get away from the bigger richer style of most McLaren Vale shiraz', and attempt to make something more along the lines of Northern Rhone Syrah's. The ferment was managed quite gently, using light pump-overs and/or hand-plunges, and toward the end of ferment we were able to get our hands on the lees of some white frontignac. With an overall addition of 4% of the white aromatic lees to our shiraz ferment, we were able to increase the velvety mouthfeel of the wine as well as providing a beautiful floral lift to the aromatics of the wine. It did the job as this wine ended up more medium bodied, with an elegance and femininity we seem to find (and promote) in all our Rhone varietals. It was aged in about 33% 2nd use French oak, and otherwise neutral French and American oak, and bottled after 14 months of maturation.

WINE PROFILE

Light and bright crimson colour, with a obvious purple hue running through it.

Beautifully lifted nose, very pretty and floral. Some violets, rose petal, and juniper. Lots of strawberry and even some tropical fruits such as guava. And an intriguing hint of raspberry lemonade, or I guess if you were to break it down, vanilla, red fruits and citrus.

A more medium-bodied wine, and dare I say "syrah" in style. A bit of black pepper, satsuma plum, and ripe blackerry flavours. Lovely mid-palate weight, but with lingering flavours on the gentle finish . Much of the fruit spectrum is in the purple realm, and a lot of the floral characters follow through from the nose to the palate. Ready to go now, but will also age nicely for the next 8-12 years.
FREQUENTLY ASKED QUESTIONS
Do your wines contain sulphur?

In short, yes. We use a tinsy bit so that we can ensure quality and enable your wine to age well, rather than spoil within a short timeframe like some 'natural' wines.
Are your wines organic?

We source our grapes from a number of different growers and some of them are certified organic, and some aren't.
How much does shipping cost?

Depends how much you're ordering and where you're shipping to. Generally speaking, the closer you are to Melbourne or Adelaide, the cheaper it will be. All shipping prices are calculated at the checkout, but order 12 or more bottles and receive free shipping.
Which restaurants / stores stock your wines?

It changes regularly but you're welcome to contact our distributors